Posts
https://ritualize.com/wp-content/uploads/2018/02/blue-light-image.png
1080
1080
Courtenay Fairhurst
https://ritualize.com/main/wp-content/uploads/2017/03/Logo_smaller.png
Courtenay Fairhurst
2018-02-13 23:59:36
2018-02-14 09:32:24
Blue light casts a new light on sleep deficiency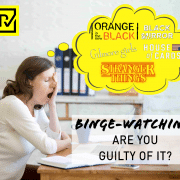 Health, Mindset, Sleep, Workplace health and safety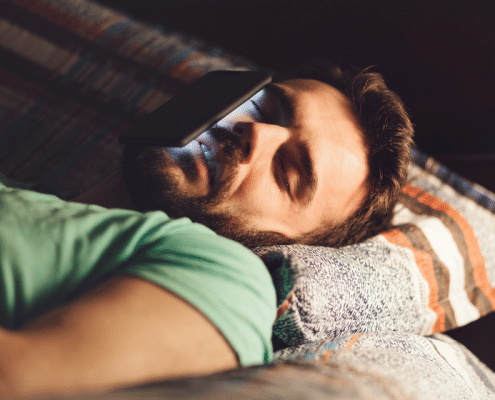 Are you guilty of it?
Since the introduction of streaming companies, such as Netflix and Stan, the era of scheduled programming has seemingly come to an end. Everyone can watch the content they like when they like. This unprecedented access has introduced a new viewing style: Binge Watching. Binge watching is defined as "watching multiple consecutive episodes of the same television show in one sitting on a screen, be it a television, laptop, computer or tablet."
Prior research has indicated that media bingeing was associated with more anxiety, depression, and fatigue. Binge viewers also reported higher levels of loneliness and depression. In more recent studies, conducted by the Journal of Clinical Sleep Medicine, it was reported that binge-watchers had more fatigue, insomnia symptoms, poorer sleep quality, and feeling more alert before going to sleep. Those who binge-watch before bed had 98% more chance of having poor-quality sleep than those who didn't.
Looking at bright screens, especially at night, can wreak havoc on your biology, because it is one of the cues that helps maintain our circadian rhythm, or body clock. When it gets dark, our bodies start to prepare for sleep, but bright lights can trick our brains into thinking it's still daytime and it reduces our ability to secrete melatonin, which makes it not only harder to fall asleep, but also reduces the amount of sleep you get once you do fall asleep.
While we don't expect you to stop watching shows, there is a way to help combat the binge-watching addiction. Dr Robert Oexman, a member of the American Academy of Sleep Medicine, says the best way to do it is on the weekend, and earlier in the day instead of the late evenings. Ideally, binge-watching should occur before 6 pm, and if that's not possible, you should at least stop watching shows an hour before you start getting ready for bed.
For more tips and information on how to help improve your quality of sleep, check out our Ritualize app!
References:
https://www.google.com.au/amp/variety.com/2017/digital/news/binge-watching-health-risks-netlfix-1202447516/amp/
http://jcsm.aasm.org/viewabstract.aspx?pid=31062
https://www.businessinsider.com.au/tv-binge-watching-can-damage-your-health-2017-9
SaveSave
SaveSaveSaveSave
SaveSave
/
0 Comments
/
by Ritualize
https://ritualize.com/wp-content/uploads/2017/11/binge-watching.png
788
940
Ritualize
https://ritualize.com/main/wp-content/uploads/2017/03/Logo_smaller.png
Ritualize
2017-11-08 12:47:12
2017-11-16 09:19:49
Binge-watching before bedtime…
ABOUT US
Ritualize is a leading provider of corporate health and wellbeing programs across Asia Pacific, Europe and North America. Our unique approach creates compelling calls to action which deliver tangible benefits to our customers and partners.